Todays Date:
Team Open Tournament 100% Payback
Lake Bridgeport Night Tournament Sat. July 18th 6:pm till 12:00 Midnight
Hosted By: Trophy Bass Club
Tournament Director: Mark Wendler
Entry Fee: $50.00 Per Team That Includes A $10.00 Big Bass Entry,Only One Place Will Be Payed Out For Big Bass
Weigh In Sight: Wise County Park
Pay Outs: One Place Per Every 5 Entries
Team Or Individual Witha a 5 Fish Sack Per Boat ( No More Than Two People Per Boat )
You Must Be Registerd Before 5:30 Please
Live Wells Will Be Checked
Trailering Is Allowed: After You Have Registerd And Live Well Check
Weigh In: All Contestents Must Be Checked In Before 12:00 Midnight Weigh In Time
Fish Will Be Measured On A Check-It-Stick
Fish Must Be Brought In A Weigh In Bag With Water
Dead Fish Will Incur a 1/2 lb Penalty Per Fish
All State And Local Laws And Regulations Will Apply
12"inch Min.No Fish Under 12 inches Will Be Weighed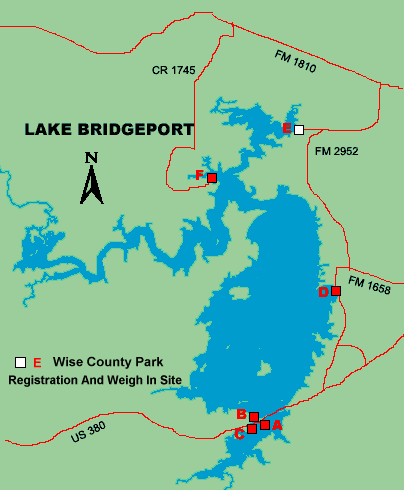 Results From Open
Bridgeport July 18th Open Night Tourney Results:
1st. Place: Cross / Martin 8.30 And Won Big Bass With 3.72
2nd. Place: Wally / Phillips 5.81
3rd. Place: Hinkle / Reynolds 4.03
We had 14 teams come out and fish
Trophy Bass Club would like to thank everyone that came and fished!