Monthly Tournaments
---
End Of The Year Championship
---
Family Club
---
Check Out Our Other Pages Below





Trophy Bass Club
Ft.Worth, Texas
Est. 1976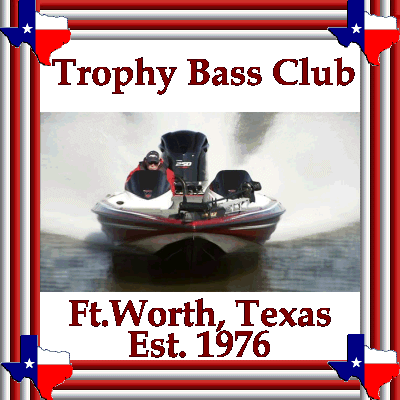 Club Monthly Information

President: Joe Huchowski
Vice President: Norm Minerich
Weight Master: Mike Kindley


Squaw Creek had 49 members fish the January tournament. Congratulations to the top finishers: 1st place-Terry Pringle @ 10.58lbs (big bass 5.06lbs), 2nd place-Ron Petterson @ 10.28lbs, 3rd place-Kevin Smith @ 9.61lbs, 4th place-James Painter @ 9.31lbs and 5th place-Keith Cantrel @ 9.13lbs.

The spring two-day tournament will be held on Lake Palestine, April 15 & 16, 2023.

Tournament Photos
We are located in Fort Worth, Texas. We fish all twelve months out of the year and hold club meetings once a month. The meetings are on the first Wednesday night of every month, they start at 7:30pm. Meeting place is at: Spring Creek Barbeque Restaurant in Lake Worth, 6701 Lake Worth Blvd, Fort Worth, Texas 76135 ----- which is just west of Loop 820...
Trophy Bass Club fishes on an individual basis and a point system. Membership dues are $20.00 per year, per member. Dues go towards fishing the Classic; for those who qualify..
Trophy Bass Club is a family club.
Tournaments are held on the first Sunday after our monthly meeting of each month.
The entry fee for all tournaments is $25.00(includes Big Bass).
The club holds an end of the year Championship for those who have qualified.
We give out awards at the end of the year for: Angler Of The Year and the Biggest Bass caught in that year.

Anyone interested in becoming a new member or renewing their membership must do so at or before the next meeting.

The January Meeting Is The Start Of A New Fishing Year. So Come Out And Join Us !

Lets Make 2021 A Good Year !


Contact Us at: trophybassclub@gmail.com if you have any questions...

---

Thanks For Viewing Our Web - Site