Monthly Tournaments
---
End Of The Year Championship
---
Family Club
---
Check Out Our Other Pages Below







If Your Thinking Of Joining a Bass Club...Give Us A Try !
Trophy Bass Club
Ft.Worth, Texas
Est. 1976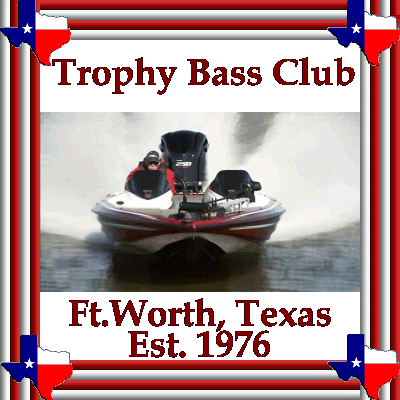 Trophy Bass Club Monthly Tournaments

Enjoy Your Visit And Come Out And Fish With Us!

About Our Club : We are located in Ft.Worth,Texas.We fish all twelve months out of the year.And hold club meetings once a month,always on the first wednesday night of every month,they start at 7:30.Meeting place is at Arizolas Mexican Restaurant in Lake Worth,off of Hwy.199,its just east of Loop 820.
Trophy Bass Club fishes on an individual basis,and a point system.Membership dues are$20.00 per year,per member.Dues go towards fishing the end of the year Classic,for those who are eligible.
Trophy Bass Club is a family club.
Tournaments are held on sundays.
The entry fee for all tournaments are $25.00.


The club holds an end of the year Championship for those who have qualified.
We give out awards for the end of the year Angler Of The Year and Lady Angler Of The Year award.
If you have any questions our e-mail address is below.

TrophyBassClub@live.com
E - Mail
Thanks For Veiwing Our Web - Site
Trophy Bass Club's UPDATES
News
The Next Meeting Will Be sept 7th.
Our august Tournament Was Held On lake granbury
ben griffin won 1st. Place 4.08 and BB.
robert vaughn Won 2nd. Place 3.86.
claude barnes Won 3rd. Place 3.15.
Congrats To Our august Winners !
Welcome To All Our New Members!
---
---
Rocky Rose Wins 2010 Angler Of The Year

Dana Robertson Wins Lady Angler Of The Year
Congrats To Our Anglers Of The Year
2010 Trophy Bass Club Classic
The 2010 Trophy Bass Cub Classic Was Held Dec.12th At Lake Bridgeport, David Rose Won First Place............. Congrats David !


The Classic Paid Three Places
1st.David Rose
2nd.Kelly Lowe
3rd.Lannie Robertson
The January Meeting Is The Start Of A New Fishing Year.So Come Out And Join Us !

Club Members Dont Forget, We Have A Message Board !

Lets Make 2010 A Good Year !
---

You Are Visitor
Copyright© Trophy Bass Club.All Rights Reserved.